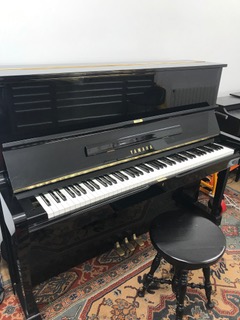 Pianos are beautiful instruments but it is important to tune them every now and again so they sound fantastic. In time they may also need repairs to fix issues with parts like the strings, hammers, felt, and more. Luckily, you can rely on Malcolm Smith Pianos if you need help with either. We are the top provider of piano tuning and repair Glasgow has to offer.
We have been working to build our reputation since 1979. Today, we have some of the most experienced technicians and set high standards for every service.
Piano tuning
Every technician on our team is a member of the Institute of Musical Instrument Technology. That means they focus on best practice at all times. As a result, your piano is in safe hands whenever you need someone to tune it.
As well as incredible skills and experience, our technicians have access to the best equipment. The up to date technology and tools can help make every piano sound wonderful.
If our professionalism wasn't enough, we also work to offer a service every client will love. We give clients the chance to choose an appointment time and date to suit them. We will stick to this so we don't disrupt their day to day schedule. The tuning will also be complete in one single visit.
In all, we are the most reliable provider of piano tuning in Glasgow.
Piano repair
We appreciate how horrible it can be when your piano is broken. Luckily, we can help. Our mobile workshop and Renner technicians can come to you to fix many problems. This can include replacing various parts and more.
Unfortunately there are some times when there is no choice but to replace the whole action and restring. We can do this, refurbishing all kinds of pianos. We can take your instrument away to our workshop and do the repair with care and precision.
The quality of our service makes us the best name for piano repair in Glasgow. We can also fix pianos with some cosmetic problems by offering re-polishing.
Do you want to book piano tuning and repair in Glasgow?
Malcolm Smith Pianos is a company you can trust and one that delivers the same exceptional level of service every time. Whether a client calls on us to tune a piano or repair it, we always give them the best value for money.
So, if you want piano tuning and repair Glasgow has no better than us. You can call us at 07880 502 643 or 0131 344 0208.